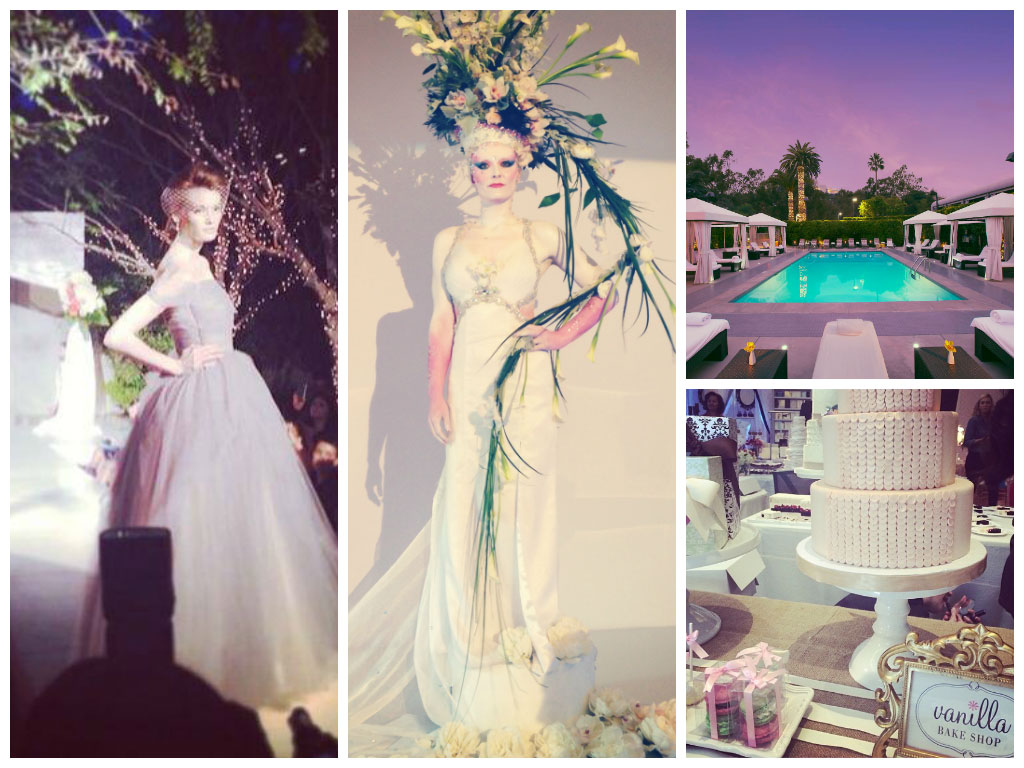 Ever attend an event as a vendor and leave wishing you had been a guest? This just happened to the La Petite Gardenia staff and Emmy Award-winning make-up artist, Jennifer Aspinall, at the Luxe Hotels Wedding Event. While creating the Human Vase and working our fabulous booth built by OCLA Events with one of our fave planners, SJL Events, we caught glimpses of #luxewedevent. From the luxurious Luxe Sunset Boulevard Hotel being decked out by the best celebrity wedding planners and designers, to samples from the emerging wedding styles, it is undeniable that 2014 promises to be a stunning wedding season.
Still, except for an irresistible taste of the wedding cake from Vanilla Bake Shop, we were too busy to relish in the wedding event's spoilings.
So we caught up on social media.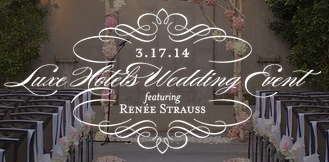 produced by | Luxe Hotels | Renée Strauss | SJL Events | OCLA Events
Thee wedding showcase of the year, Monday's #luxewedevent was filled with the hottest wedding trends of 2014. Under the creative direction of Renée Strauss, the Luxe Hotels Wedding Event featured refined, glamorous wedding designs that we have not seen the likes of since the 1920s. The biggest surprise for this wedding veteran was the fashion show. Just when you thought bridal gowns could not get any more fabulous, Sareh Nouri designs a collection that makes you want to get married. Right now. Before this wedding season of decadent chic passes you by and is only remembered in vintage selfies.
Take a sneak peak at the glamorous new bridal styles that will be walking down the aisle this year: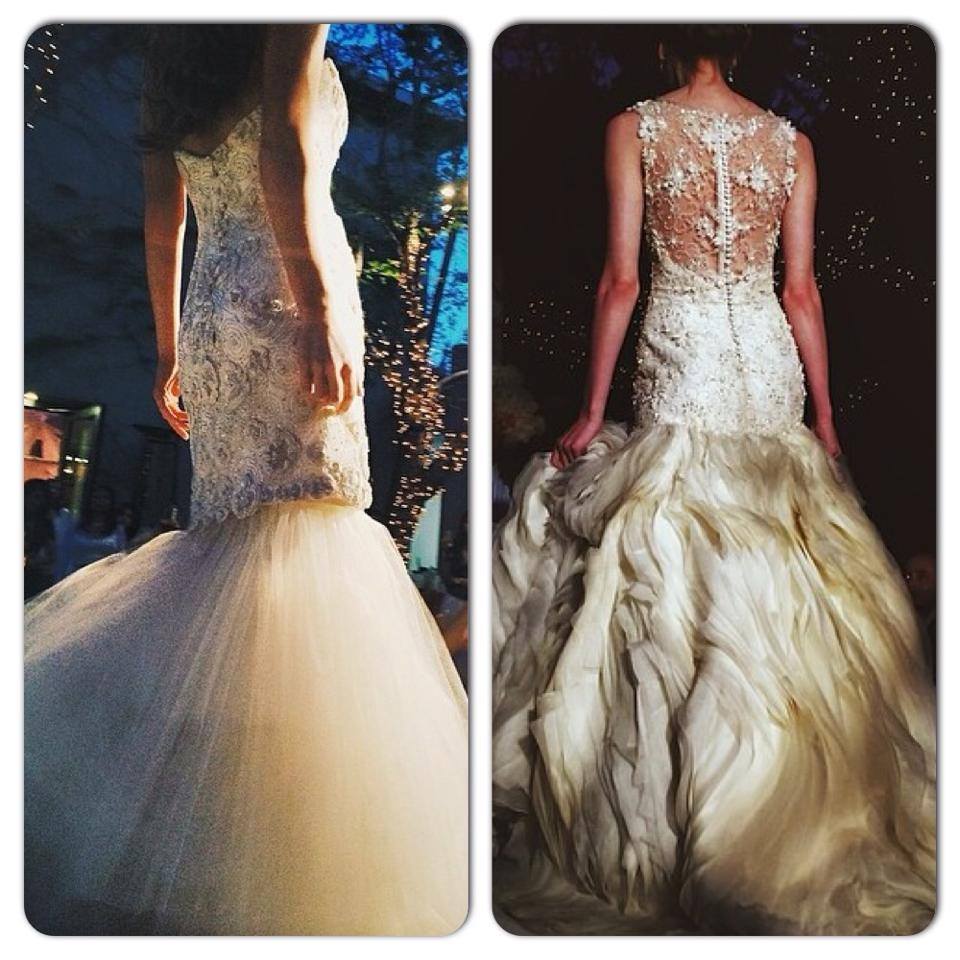 These Nouri gowns caught our eye at the event and we are still #obsessed. Love the revival of classic Hollywood with modern refinement.
(Photo found on Sareh Nouri's Facebook)
Oscar worthy wedding attire by Sareh Nouri & Brooks Brothers
Watch this video to see Sareh Nouri's fabulous fashion show and find out why this Halina breakaway bridal gown brought down the house.
Just when you thought it could not get better than once-in-a-century bridal fashion, exhibitor booths had chic displays to match your Great Gatsby inspired wedding attire. These are just a few of the offerings from the exhibitor's Luxe's Wedding Event that made us #swoon…
The notorious busy-proof wedding cakes from Vanilla Bake Shop that I could not resist.
Style + Delicious = YES
+One luxury gift and home ensemble from Michelle Butler, please.
These delicious treats by Fantasy Frostings' almost look too precious to eat on this chic mirrored bar by @d8Furniture. Almost.
Design by Bridal Bar
Stunning Swarovski crystal hearts by Mayfair House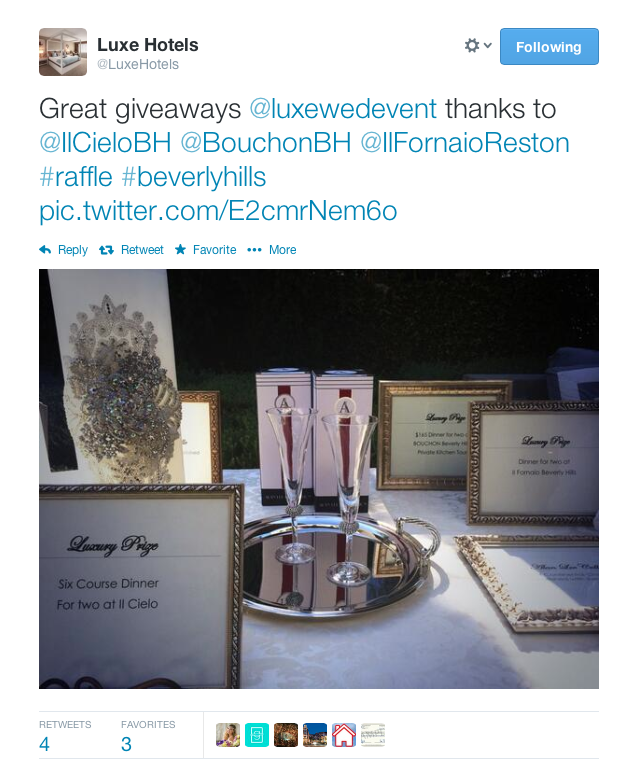 Fantastic giveaways included a six course dinner for two at Il Cielo. One of our fave Italian restaurants in Los Angeles (a rare find for this Italian from New York).
While we did not get to linger at the Luxe, we did have the pleasure of spending time with many wonderful people who dropped by our booth to pose with our #HumanVase. Including two of the stars of the show: Efrem Harkham, CEO of Luxe Hotels, and Sarajane Landun, CEO of SJL Events. Part wedding decor, part entertainment, the Human Vase invites guests to interact with floral design in a new way. Conceived by designers Alison Franchi and Jennifer Aspinall in 2005, the Human Vase created a wow factor for #luxewedevent guests and their social media feeds.
With a symphony of glam, elegance, luxury, and modernity emerging from these top designers… the 2014 wedding season promises to be one that will be remembered for centuries in memorabilia and selfies.  See you on the aisle!
Luxe Hotels Wedding Event was the event of the year and we loved being a part of it. Special thanks to @SJLevents @reneestraussbh @oclaevents @luxesunsetblvdhotel @peventlighting @GENLUX @GiltCity – you are all rockstars!